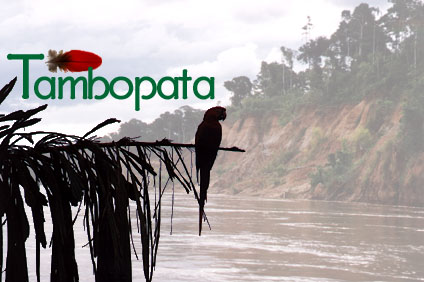 t is dawn at the Colpa. The mist clears and the jungle garnished clay cliff appears in the morning light. You have been waiting hours in the dark for this first sight, eyes trying to focus on dim shapes, ears straining for sounds over the rushing of the river waters.
Parrots begin to arrive from all directions. Flocks of Mealy Amazons land on an outcropping and immediately set to eating clay, while the Macaws gather in the trees atop the cliff and wait. More and more arrive, until the trees are flowering with splashes of blue, red, yellow and green. Still they wait. Their calls rise from a mumble to a chorus and then with a sudden crescendo, they take to the air and descend upon the clay.
Another day at the Tambopata Colpa has begun...