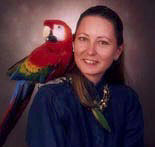 Kath and Sophie
Kath designed this site and Sophie looked over her shoulder.

everal years ago, my husband and I decided to celebrate the December holidays in a different way. On Christmas morning we left our home in Florida and began an adventure that would focus on watching the wild macaws of Tambopata, Peru, at one of the largest Colpas (clay licks) in the Amazon.
It was an extraordinary experience and I have created this site to share our pictures and observations of it. All of the content and pictures are our property and may not be reproduced or used without our permission. We thank you for visiting.