rtificial nest boxes have been hung in the surrounding jungle to improve breeding opportunities for the wild macaws. These nests are popular with breeding pairs and activity in them is monitored by research assistants at the center. The nests are reached for inspection by climbing ropes positioned in the trees.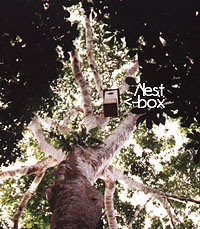 Macaws will lay 1-3 eggs, but it is rare for more than one baby from the clutch to make it to fledging. Competition for food, predators and parasites take their toll. Research assistants will evaluate the babies in the nest, taking weight, body measurements and examining them for parasites. If a baby is not thriving it will be removed from the nest for hand-rearing in camp. The parent birds seem undisturbed by this activity around their nest and watch quietly from the tree.

umaring as much as 90 feet up into the rainforest canopy to check on a nest box is no small feat. You can learn the technique, and if strong and fit enough, make the ascent yourself.
| | | |
| --- | --- | --- |
| Starting at the tree base | Heading on up | Halfway up to the nest |