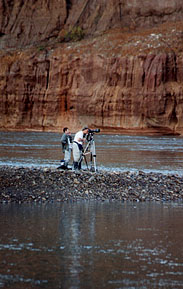 ou watch the birds arrive from the stony beach across the river from the cliffs. Close enough to see their activities and far enough away to not intrude. The rocks on the beach are carved from the mountains.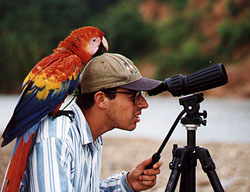 he Chicos, macaws that were hand reared in camp and fledged into the jungle, join you on the beach. Typical youngsters, they are more interested in exploring your equipment than the spectacle of the clay lick.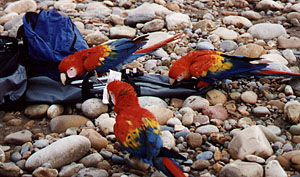 Chicos are free to fly where they will. They visit the cliff and learn to eat clay from the other macaws. As they mature, they visit camp less and eventually join the flocks. They have been known to drop in after a long absence, looking for a banana or pancake handout.

he flock filled panorama above the clay lick pictured below.